Diapositiva {CURRENT_SLIDE} de {TOTAL_SLIDES} - Buscar por Red
About BlackBerry Bold 9700
Showing slide {CURRENT_SLIDE} of {TOTAL_SLIDES}
View with more clarity.

The Bold 9700 smartphone has a large, hi-resolution screen that displays over 65,000 colours; creating a vivid viewing experience for all your photos, videos, files and websites.

Access everything.

Access what's important with trackpad navigation based on how laptops are designed. Glide your finger over the trackpad to scroll through menus and icons, click where you want to go.

Save it all.

Enhance the 256 MB of on-board flash memory by easily inserting a microSD card. Create extra room for emails, messages, apps, multimedia files and documents that you want to take with you.

Snap and go.

Hi-speed 3G network connectivity lets you browse the web or view email attachments faster. While Wi-Fi® support enables your smartphone to access available hotspots.
eBay has provided more information about this product above and is not affiliated with or endorsed by BlackBerry.
Price Trends
BlackBerry Bold 9700 - Price Used
Used Price*
from $18 to $24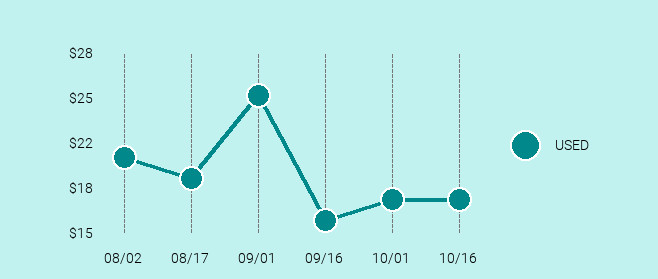 *The average sold price is calculated based on "Buy It Now" items sold within the 90 day period described above (excluding shipping and handling). Each interval represents a 15 day period. There is no guarantee that items will always be listed at a price within the provided range.
Top 3 High ratings
Top 2 Low ratings
Best Blackberry Ever!!

This may be an older blackberry, but I have tried many, even the Q10, and this Bold 9700 got the best reception of any blackberry I ever owned...period. It takes good pictures and video also. The battery life is incredible and the speaker phone is loud and clear !

Verified purchase: Yes

Great Buy!

BB's are great for small businesses. Purchased an AT&T Go Phone, this BB and switched the SIM Card. Perfect fit and the small dings on the BB make me more comfortable using it because I'm not afraid to drop it. Arrived earlier than expected and I've used it ever since. Would definitely purchase again!

Verified purchase: Yes

BlackBerry 9700

This may be the best phone ever made. GPS works great, 3G Data brings the internet alive when mobile, and the call quality cannot be surpassed. I highly recommend this device!

Verified purchase: Yes