About BlackBerry Passport
Showing slide {CURRENT_SLIDE} of {TOTAL_SLIDES}
Work wide.

The BlackBerry® Passport smartphone challenges the smartphone status quo with a large square touch screen and touch-enabled keyboard.

Large touch screen.

The BlackBerry® Passport has a large square touch screen that provides an amazing viewing and reading experience, giving you wider vision and workspace. It is designed for a better web browsing, reading, apps, editing and maps experience.

The touch keyboard.

The BlackBerry Passport's physical keyboard gives you more typing accuracy and leaves you more screen space for viewing. It's responsive to touch so you can scroll web pages, flick to type or slide along the keys to move the cursor.

Your personal assistant.

BlackBerry® Assistant allows you to manage your affairs through voice and text commands. When you're connected to Bluetooth in the car, it knows you can't look at the screen and will interact with you completely eyes and hands free.
eBay has provided more information about this product above and is not affiliated with or endorsed by BlackBerry.
Price Trends
BlackBerry Passport - Price Used
Used Price*
from $84 to $134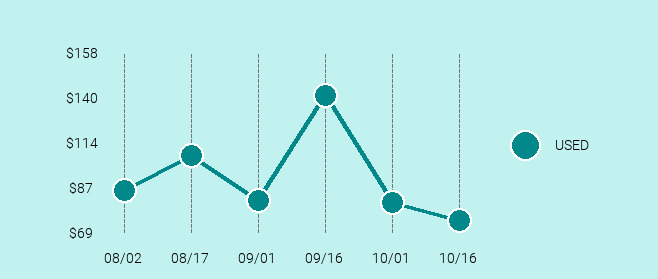 *The average sold price is calculated based on "Buy It Now" items sold within the 90 day period described above (excluding shipping and handling). Each interval represents a 15 day period. There is no guarantee that items will always be listed at a price within the provided range.
Compare Similar Models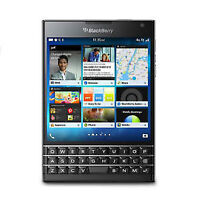 BlackBerry Passport
Operating System
BlackBerry OS 10.3
Screen Resolution
1440x1440
Processor
2.26 GHz quad-core
Showing slide {CURRENT_SLIDE} of {TOTAL_SLIDES}
Top 5 High ratings
Top 1 Low rating
Blackberry Passport - a unique and still relevant smartphone

The Passport is a uniquely Designed smartphone. The BB10 operating system is superior to all others in its ease of use, multitasking and fluidity., , If you are a fan of physical keyboards, this is the best though it will take a little time to get used to its unique three row physical keys with additional virtual rows above as needed. Blackberry is known for the outstanding quality of their physical keyboards and this one does not disappoint. If you need a smaller phone that you can operate with one hand, this will not be for you., , With the addition of the ability to download and use Android apps, you get an expanded app ecosystem. Not all Android apps work well with this screens 1:1 aspect ratio, and there are some minor issues with some apps, but overall a very good experience. The build quality is exceptional and the security is the best. The speakers are extremely loud and clear and the call quality is excellent. The screen brightness allow for direct sunlight use. The battery lasts a long time and you can get almost two days of normal use without charging., , Even though the technology is from 2014-2015, this phone still performs like a flagship and with the improvements in the OS and the addition of Android apps, The Blackberry Passport reflects the old adage that some things get better with age. This is one of those.

Verified purchase: Yes

BlackBerry Passport, Still Getting Wow's

I had been looking for a phone with a good physical keyboard and there aren't many options available with this feature nowadays. After conducting multiple comparisons on different phone review websites I found that this model, though released on store shelves in 2014, was still one of the most versatile and intriguing models to have a physical keyboard. I was skeptical about the BlackBerry Priv because I read that the physical keyboard has a touch cursor integrated into the keyboard. I didn't realize that my Passport does too. It's able to be switched off but it actually is more convenient and easy to use than I had expected. So far I'm loving this phone and have received several comments and inquiries from people when I take it out, due to its large rectangular design and wide screen. The form factor is still fairly slim to have such a pleasingly large screen size. I'm impressed by the self-evident enhanced security features, plus all of the little extras that BlackBerry is known for concordant to its upstanding reputation. I definitely recommend this model for anyone who uses messaging often, including push email and multiple accounts. One word of advice is that the app store is not bounding with variety. This device is more useful for its functionality, security and technical options.

Verified purchase: Yes

Excellent blackberry

in my opinion this is the best blackberry yet, because of the ever growing screen size and the quest for battery life that goes along with it, it does have the wide factor while still shorter that most phones on market to date. Battery life is well into two days of moderate use and well it has good performance, i keep it minimal so i get the best out of it., Con: the phone in a fairness is the width if i could say it is. if you have slim fitted clothes its not gonna fit into your pockets which may be a problem however browsing or use without have to pan left or right on screen is something i enjoy. if you don't mind sacrificing android play-store to use the BB 10 OS. However you will also be just fine, its not going to have the wide scope of apps but you will be just fine if your willing to compromise. People usually have two phones these days so its not a big issue., Security is great and flexible plus customization is excellent even., Start up and reboot is slower that on most devices but i guess that not a issue to me since its not a race anyway., It has a nice rubber coating on back which makes it feel great in hand and the keyboard blew me away since my last blackberry was a torch (lol), The OS seems to be going out of style as they say so don't buy this phone and want to keep up with the android trending market., The screen seems to be nano coated so it is extremely smooth and it supports micro SD (256 max) and nano sim if you guys were wondering., But the phone is to keep you productive and effecient which the base app do provide (not in any flashy aftermarket app) but do so in all simplicity., Just wish they had the limitless customized led lighting like a few generations ago., But those are some of the strong and weak points about this mobile which none really are perfect but i love this one, hope other buyers may find this useful from a buyer and owner standpoint in helping them figure out if a BB passport will be suited for them.

Verified purchase: Yes

Best phone in ages!

This phone might look big but it's size is nothing. (It's almost as big as a Galaxy Note or an iPhone 6s Plus) It works really fast and runs smoothly. The battery last about 20 hours of continuous usage and about two and a half days of minimum usage. The keyboard is something amazing! I thought that physical keyboards where a thing of the past, but I was so wrong! It looks weirdly placed but your fingers get used to it pretty fast and since its touch-enabled the predicting swiping that distinguishes BB10 OS works smoothly. Last but not least, the OS. BB10 is an underrated OS, it's pretty well built in, smooth and intuitive. At first, people might find it difficult to use because of the lack of buttons to go back but you don't miss them at all. Another amazing thing is the built-in HUB. The ability to see all your messages and notifications in a place without the need to open an app is one of the most benefitial things that this OS can bring., , The downside, are the lack of apps, for some people, and camera. The apps that I use work perfectly and going back to my apple days, I can say I had a ton of apps that I never touch. I have the apps that are necessary and use constantly, nothing more! On the other side, the camera is not the best but it does what it's supposed to do. It takes good pictures in low light scenarios with the night mode activated and pictures in sunlight are great., , If you're undecided, go for it! It's a great phone, it might be old but it runs better and faster than any other smartphone and the battery life is incomparable. It has it flaws but if you're worried about apps, I'm pretty sure you have a tablet then it gets covered. And if the problem is the camera, use a real one, it will take better pictures than any other smartphone.

Verified purchase: Yes

BEST BlackBerry phone ever!

I've been a long-time user of BlackBerry phones for many years. My use goes back through the BlackBerry 8900, 9800, 9810, Q10, and now the BlackBerry Passport. Not getting any younger *grin*, so the big screen is a huge plus to me. I also like that BlackBerry phones are so secure; you don't ever hear about them being hacked, unlike Android phones and lately, iPhones. BlackBerry OS 10.3 also allows the installation of Android apps, a really nice advantage, as long as said apps are available in the Amazon store. I wish we had full access to the Google Store, but don't think that will happen because of the need for Google Play Services for many of those apps to run. All that said, this is a gorgeous touchscreen on this phone, as well as a highly functional touch keyboard. It's extremely fast with its quad-core processor, and it has acres of room for storage for additional apps (32G); it can also take up to a 128G microSD card (I'm currently using a 32G card) for external storage, which is ample room for pictures and videos. The camera takes magnificent pictures in stunning, accurate colors, and videos are just as accurate in colors, with no stuttering. The battery is awesome; I only have to charge once a day now, and do that at night when I'm sleeping. Sound is superb; I have no difficulty hearing anything. And no problems setting up either of my Bluetooth headsets, and both work well on my phone -- too bad battery life on them isn't better! Of course, I'm an avid fan of the BlackBerry OS, with it's wonderful Hub where everything can be accessed easily; it's very easy for me to keep my multiple email addresses organized. The browser is light and very fast, the fastest browser that BlackBerry has produced yet; I haven't had any issues playing videos or accessing any information on any website. I've just started playing around with the BlackBerry Assistant, and am really impressed with everything that it will do. Love being able to text and send emails, without having to use the keyboard. And yes, this IS a big phone -- but I wanted a bigger screen, so am willing to deal with the width of the phone to get that beautiful screen, and save wear and tear on my eyes. This phone is, by far and away, the BEST BlackBerry phone I've ever had, and I'm happy to have it! And anyone who is a BlackBerry junkie like I am, should seriously consider upgrading to this phone; it's the BEST ever!!!

Verified purchase: Yes