Diapositiva {CURRENT_SLIDE} de {TOTAL_SLIDES} - Buscar por Red
About BlackBerry Q10
Showing slide {CURRENT_SLIDE} of {TOTAL_SLIDES}
Crafted with precision.

The classic BlackBerry® Keyboard has been re-engineered for an most effortless typing experience. Images appear in stunning detail on the 3.1 inch OLED display, and features and apps work seamlessly together.

BlackBerry Balance.

Access your work email and apps on your BlackBerry Q10 smartphone, without compromising your personal experience and use. BlackBerry® Balance™ technology keeps your information secure by creating both personal and work profiles.

BlackBerry Remember.

Managing a busy project? Planning your next holiday? Collect relevant photos, lists, messages and web links, and group them all in one place.

BlackBerry Hub.

Stay close to what's important to you without stopping what you're doing. Simply peek into the BlackBerry® Hub from any app with just a swipe and flow effortlessly in and out of your messages and conversations.

BBM Video with Screen Share.

Switch your BBM™ chat to a BBM™ Video1 conversation and see the smiles of those that matter to you most. Use the Screen Share feature to show photos or your browser, or review a business document together.
eBay has provided more information about this product above and is not affiliated with or endorsed by BlackBerry.
Price Trends
BlackBerry Q10 - Price Used
Used Price*
from $31 to $93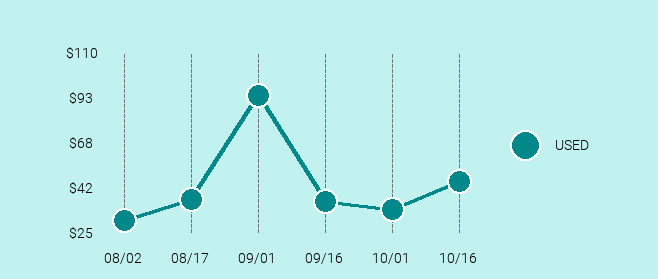 *The average sold price is calculated based on "Buy It Now" items sold within the 90 day period described above (excluding shipping and handling). Each interval represents a 15 day period. There is no guarantee that items will always be listed at a price within the provided range.
Compare Similar Models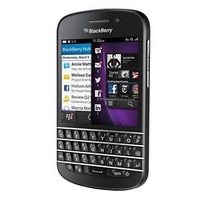 BlackBerry Q10
Operating System
BlackBerry OS 10
Processor
1.5 GHz single-core
Showing slide {CURRENT_SLIDE} of {TOTAL_SLIDES}
Top 5 High ratings
Top 3 Low ratings
BB Q10 reminds me of what made BB great.

I bought this as a back-up phone as I had accidently destroyed my LG. As soon as I fired it up it reminded me of how great the, BB 10 os is. Having been a Palm Webos fan the BB10 & Q10 phones were about the closest to the Palm Pre 3's Webos system BBM available 5yrs ago. I like the size of the device, ease of operating it one handed, mm and the multitasking features. I am now keeping it as a backup as I upgraded to the Blackberry Ketone which is a superphone. In any case the Q10's specs are lower end compared to today's offerings, but as a backup you can't go wrong. Some of the youngsters find it a curious looking device because of the physical keyboard which is still awesome even on this 5 year old phone.

Verified purchase: Yes

Best BlackBerry phone

I love this phone. This is the second BlackBerry Q10 that I've owned. The first one lasted 4 years and was still working great until the mic stopped working property (I might have dropped it one too many times)., , I was happy to find another NEW one on ebay. It works excellent. The phone size is perfect and I love the physical keyboard and touch screen. The screen clarity is excellent and I can view most Web sites without any issues. I can't say eneough great things about this phone., , I must admit... I did try to go back to using an Android phone for a short while and hated it!!! It didn't take long before I went back to my beloved BlackBerry Q10., , If you are an avid BlackBerry user, this phone is awesome!

Verified purchase: Yes

From Android to blackberry

I haven't used a blackberry since 2009. I decided to buy one for my writing. I've written a novel with a iPod touch and I just love the idea of having a handheld device to type stories especially when I'm on the go., , The keyboard on this device is excellent!!! I am definitely tying faster which is a A+++++ for me. The battery on this is phenomenal. I haven't charged it for 3 days and I'm only at 37% battery., , I thought I would be disappointed with the apps for this phone because I'm used to Google play, but I'm not at all! I have most of the apps from my Android on this device., , Overall this is a great phone. It's secure, easy to use and fast. I don't see myself going back to a android or iPhone anytime soon.

Verified purchase: Yes

Consistently Performing Phone

Phone works consistently on the 3G and 4G network. Data speeds are surprisingly fast and the call quality is superior to most android phones I've used. If you like the simple phone that handles Texts, Emails, and Calling then this is the phone for you however if you are like most and demand Apps then I would not recommend this phone. While you do have access to a very limited library of Android apps that can run on the Blackberry, honestly they just weren't designed for a Blackberry so at best you get a second hand imitation. In closing, the best feature I like is the battery life which remains high through out the day and when I need to charge it I can do so within an hour at the most.

Verified purchase: Yes

Perfect blend of speed and usability

The Q10 is the fastest-responding phone I've ever used. Rarely (if ever) is there a moment where I wonder "did the phone register that tap?" The interface is so snappy there's never a question. (It happened constantly on previous Apple and Samsung hardware and it drove me nuts), , Buttons (both on the keyboard and the sides/top) require just the right amount of pressure to activate. I've never picked the phone up, put it down or retrieved it from my pocket and accidentally pushed a button., , The keyboard will feel familiar to anyone who's used a Blackberry of any kind post-original Curve model. My typing speed has tripled compared to the touchscreen devices I used to use., , I could care less about the lack of certain pieces of software; the built-in apps do exactly what I want them to do and if you keep in mind that this is meant to be a Phone and productivity tool (not necessarily an entertainment portal) then you'll never be disappointed., , RIM will have to pry this Q10 out of my cold, dead hands before I go back to a touchscreen-only phone. LONG LIVE BLACKBERRY!

Verified purchase: Yes