About BlackBerry Torch 9800
Showing slide {CURRENT_SLIDE} of {TOTAL_SLIDES}
Best of both worlds.

Combine a full-touch display and optical trackpad with the slide-out BlackBerry® QWERTY keyboard and you get an incredible multimedia experience in a powerful, stunningly crafted smartphone.

Connect and share in real time.

Your friends and colleagues are just a message away with BBM™, Facebook, Twitter and all your favorite social apps. Update multiple social networks with just a single click. Push technology brings it all to you as it happens.

Explore BlackBerry App World.

Social apps, the latest games, themes, and much more.

Incredible Multimedia.

Explore what's around you in Augmented Reality with Wikitude World Browser™. Find BBM friends nearby and share pics of each moment as it happens. Then test your games skills with 3D Rollercoaster Rush™ Jurassic 2.
eBay has provided more information about this product above and is not affiliated with or endorsed by BlackBerry.
Compare Similar Models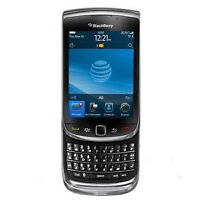 BlackBerry Torch 9800
Operating System
BlackBerry OS 6
Processor
624 MHz single-core
Showing slide {CURRENT_SLIDE} of {TOTAL_SLIDES}
BlackBerry Z30

Operating System

BlackBerry OS 10.2

Screen Resolution

720x1280

Processor

1.7 GHz dual-core

BlackBerry Bold 9700

Operating System

BlackBerry OS 6

Processor

624 MHz single-core

BlackBerry Q5

Operating System

BlackBerry OS 10.1

Processor

1.2 GHz dual-core
Top 3 High ratings
Top 1 Low rating
Great phone

This is my second outdated blackberry. IMHO, these are much higher quality than just about all smart phones. The construction is outstanding. Blackberry OS is nothing fantastic but it gets the job done. This Torch has a nice touch screen and a pull out keyboard. The battery life is a couple days if you do not take too many long calls. The tranciever is strong. So far no dropped calls. If you do not need the latest and greatest, this one is outstanding.

Verified purchase: Yes

The Best Blackberry ever made but..

I've been using Blackberries continuously since 2000 and there is no doubt that this is the best smartphone RIM has produced to date. My review is limited to that of an enterprise user who cannot install any additional apps so I can only comment on capability around email, texting and messaging, calling, calendar, contacts and browsing. These are the main things an enterprise user is concerned with in a smartphone., , I upgraded from a BB Bold 9000 and was concerned about what I love most about it - the best in class keyboard. I could type as fast on this as a regular keyboard and long messages were no problem at all. RIM (and Apple) have gotten into the habit of making everything smaller and thinner and that includes the BB keyboards which is akin to Lenovo messing with IBM's legendary Thinkpad keyboard. Not good. I bought a BB Bold 9700 and sold it in 2 days because I found the keyboard unusable., , However, whilst the Torch has a narrower and smaller keyboard than the BB Bold 9000, it is more usable than the 9700 and I am making almost no mistakes. Added to that, the touch screen and soft kb give you another option here - so I am happy but waiting to see what the new Dakota brings which is why I bought this as an interim device., , I'm not a big fan of the new UI - it is less intuitive than Apple's iPhone but is definitely an improvement to the long in the tooth BB OS., , The biggest improvement though and the biggest reason I got this was the browsing experience. Not as fast or as satisfying as the iPhone but a giant leap forward to the bitty experience of yesteryear. Even though my company won't let me install apps on the Torch, I can go to many mobile websites and get what I want. I am now worried my data bill is going to hit the roof! It's like a non-BB device for the browser alone., , Call quality, build quality and upgrades to functionality and feature set are all that you would expect from RIM. Camera is a leap above the Bold 9000 and on a par with the 9700 which is also excellent, Now if it just had a faster processor, it would be a killer device..

Verified purchase: No

Blackberry 9800

BlackBerry and touchscreen haven't previously been a great match. The first touchscreen phone from the Canadian email masters was the Storm, well-named because it went down like a wet weekend. There was much to like, such as the click-through touchscreen that confirmed each finger press. But it lacked wi-fi, was horrible to type on and the software was unforgivably flaky., More than that, you had to ask why the company that made the best keyboards on any portable device had delivered a product without any keys at all. This week, BlackBerry's owner Research in Motion announced the Torch: a touchscreen BlackBerry with, wait for it, a slide-out keyboard. The best of both worlds, perhaps., The Torch looks like a businesslike Palm Pre Plus – which is no bad thing – but with BlackBerry's familiar grid of icons. This has had an overhaul to make it look what RIM is calling 'fresh and familiar' as part of the new operating system, version 6, which aims to be more user-friendly to newcomers. BlackBerry has a markedly different system from other phones and does take some getting used to. While this new OS is glitzier and more intuitive, it's an organic development from the earlier one. If you have a BlackBerry Bold or Bold 9700, by the way, the new OS will work on them too and should be available soon., Universal Search is a handy feature on the phone. Just start typing and the software automatically looks for everything relevant, including contacts, emails and more. If there's nothing in the device, you're offered links to Google and other sources. Palm pioneered this but BlackBerry has added extra destinations like YouTube. It's a highly efficient way to find things., The new OS also has an internet browser which is massively faster than before. Multitouch is now supported so you can pinch to zoom as on the iPhone., Of course, the key benefits of BlackBerry are preserved: gold-standard email delivery that's fast, efficient and secure, an unbeatably usable keyboard and the cost-effective BlackBerry Messenger. Wherever in the world you are, you can send unlimited instant messages to other BBM users at no extra cost – something that's been adopted happily by backpacking students wanting to text home for free as much as savvy business users wanting an immediate conversation of messages with colleagues., If you're not keen on touchscreens, the BlackBerry Bold 9700 is still very hard to beat, but this is a highly impressive business phone.

Verified purchase: No