Diapositiva {CURRENT_SLIDE} de {TOTAL_SLIDES} - Buscar por Red
Buscar por Capacidad de almacenamiento
About Motorola Moto E
Showing slide {CURRENT_SLIDE} of {TOTAL_SLIDES}
The phone's curved back makes it easy to hold.

Easily grip the Moto E due to its slightly arched back design. The phone fits naturally into the curve of your hand.

Design with a pinch of panache.

Stylized metallic strips included at the top and bottom of the phone are also where the speaker and microphone are located.

Survive a few raindrops.

A water-resistant coating on the phone's surface gives you capability to talk and text in wet weather. Even an occasional spill won't ruin the Moto E.

One main camera.

There's no selfie camera but you can snap away using the 5MP main camera which can be used in HDR mode to enhance color and add detail.
eBay has provided more information about this product above and is not affiliated with or endorsed by Motorola.
Price Trends
Motorola Moto E - Price New and Used
New Price*
from $51 to $76
Used Price*
from $30 to $48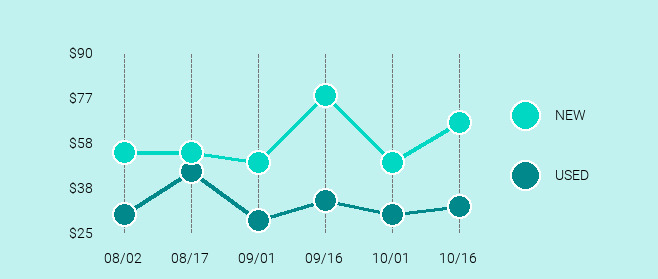 *The average sold price is calculated based on "Buy It Now" items sold within the 90 day period described above (excluding shipping and handling). Each interval represents a 15 day period. There is no guarantee that items will always be listed at a price within the provided range.
Compare Similar Models
Motorola Moto E
Operating System
Android 4.4.4 KitKat upgradable to Android 5.1 Lollipop
Processor
Qualcomm Snapdragon 200, Dual-core Cortex A7 1.2 GHz
Display Resolution
540 x 960
Size
4.91 x 2.55 x 0.48 inches
Showing slide {CURRENT_SLIDE} of {TOTAL_SLIDES}
Motorola Moto E4 Plus

Operating System

Android 7.1 Nougat

Processor

Qualcomm Snapdragon 427, Quad-core 1.4 GHz

Internal Storage

16 GB / 32 GB

Camera (Rear/Front)

13 MP/ 5 MP

Display Resolution

1280 x 720

Size

6.1 x 3.05 x 0.38 inches

Motorola Moto G

Operating System

Android 4.3 Jelly Bean, upgradable to Android 5.1.1 Lollipop

Processor

Qualcomm Snapdragon 400, Quad-core Cortex-A7 1.2 GHz

Internal Storage

8 GB / 16 GB

Camera (Rear/Front)

5 MP / 1.3 MP

Display Resolution

1280 × 720

Size

5.11 x 2.59 x 0.46 inches

Motorola Moto X 1st Generation

Operating System

Android 5.1 Lollipop

Processor

Qualcomm Snapdragon S4 Pro, Dual-core 1.7 GHz

Camera (Rear/Front)

10 MP / 2 MP

Display Resolution

1280 × 720

Size

5.09 x 2.57 x 0.41 inches
Top 5 High ratings
Top 5 Low ratings
Great little smartphone for new user or just need a backup phone.

This phone can be activated on Safelink wireless as well as Tracfone. I purchased this phone for my 76 year old moth and its her first smartphone ever. If she can learn this than just about anyone can., , Pro's - Light weight, easy to understand, 4.3" screen, battery life depends on usage, Android system, affordable, gorilla glass, 5MP camera and video, wifi capable, does have option of micro SD card, can be activated on Safelink wireless and Tracfone., , Con's - Lightweight, slippery to handle sometimes without a case or cover, more basic Android system, smaller screen than average phone out today, power button to close to volume, 3G coverage on phone. This phone is a CDMA only phone not designed to travel outside of US, Canada, Mexico., , Specs -Android 4.4 (KitKat) OS, 4.3" qHD display with Corning Gorilla glass, 5 megapixel camera/video recorder, 3G/WiFi capable. The phone comes with its compatible SIM card. In order to keep your service active, you must add any of our TracFone service cards., 1.2GHz dual-core processor, , more specs - Product Dimensions 4.9 x 0.5 x 2.5 inches, Item Weight 12.8 ounces, Shipping Weight 15.2 ounces (View shipping rates and policies), ASIN B00PWEN2ZE, Item model number TFMTXT830CP, Batteries 1 Lithium ion batteries required. (included)

Verified purchase: Yes

Best all around Android phone for the price

I was skeptical at first, thinking the Moto E could somehow eclipse the sensational Moto G and its long list of standard features (front and rear camera, dual core processor, FPGA display). I owned one until I got smart *laughs* and dropped my Moto G into a can of paint. Sufficive to say I was very upset, and when I went to find a replacement at my local Walmart, there were none left. So I looked at the Moto E. Since I already had good results with the Moto G, despite being a lower price than what I paid for a Moto G ($79.00 vs $50.00 for the Moto E) I gave it a try. Although the Moto E does not have the forward facing camera, it more than makes up for it with the addition of a 32gb Micro SD card for storage, a quad core processor with graphics processing unit, and a similar 4.7 screen with a slightly better display. Also, phone quality was excellent and setup is very easy with just transferring your SIM card to this machine. Motorola like the Moto G included a Bluetooth transfer app that transfers all of your apps from your old phone to your new one. Overall, this phone is rich in features for a small Android phone, has good battery life (8 hours talking, 4 hours watching movies or playing games) and as for games, it plays the vast majority of Google Play Store games very well and has ample room to store them on the SD card. The only downside I can honestly see is the lack of cases and skins and perhaps the volume and power buttons are a bit small, but these are minor if you really are looking for a workhorse phone with a company who is known for excellence, then this phone is a solid entry into the mid/higher end smartphone without breaking the bank!!!

Verified purchase: Yes

The only thing I don't like is that it doesn't have a notification light.

It has a useless thing that you have to touch the phone and it will briefly light up the screen to let you know if there are any notifications but if I'm across the room and I just want to look over at my phone to see if I need to attend to it or not, I can't. Maybe there is an app that I'll find that will push the notification onto the screen to blink or something like that. I didn't know it didn't have this feature and if I had known I probably would not have bought it. I had a Moto E 1st Gen and the only other thing I notice about the 2nd Gen is that the speaker volume is much lower than my 1st Gen. Otherwise, I like the 2nd Gen very much. I finally have enough room to keep all the apps I use. On the 1st Gen I kept having to uninstall apps to keep the storage from getting down to 250mb or less. That was the main reason I left the 1st Gen but I liked it's size and everything else about it. I looked around and did a lot of comparison shopping and finally decided to just go with the 2nd Gen. The size, speakers not being on the back and having 8 G of storage were why I chose it. I'll learn to live with the notification issue or solve it one way or another.

Verified purchase: Yes

Best phone I've ever owned...

For the past several years...have been using flip phones (due to having my phone service at one time subsidized and hating the phone dialing while in my pocket). Having moved about a month ago...wanted a cheap smart phone to replace the last flip phone I had. Got this at a great price and it has been the best phone I've ever owned. There's no Tracfone branding on the case and you can set this up fully with Google Voice on the Verizon network. This means you can bypass Tracfone completely for voice mail and calling...as long as you are near WiFi by using Google Voice or Skype. Very important to be able not to use any of your minutes...unless you need to do so. Next time I need a phone...will probably go with the Moto G for even better battery life (charge this up 2-3 times a week unless I've really been using it like crazy). All the software I load onto it runs and runs well from the Google Play Store. Overall...you are on Tracfone and want a smartphone which will please you...go with this one. Want to spend a bit more money...go with the next model up. Either way...you will be pleased. You can't go wrong with this phone.

Verified purchase: Yes

Good little phone

**8Mo. In, Phone always says it is full, every update you need to move anything with a box to tic over to SD card and it is still full. Never-mind games, the basic services upgrade past RAM. You can with some, uninstall all updates, go back to basic and let it reinstall updates sometimes it can save you 25-050mb over the phone, Turning off unwanted features makes the phone act Wonky!**, , The AT&T, has extra features, some will work on Wi-Fi, some are automatic, I like the New Moto features as well., , A bit sensitive and if you have big paws you may need a pointer. The screen is better than the E1. The back does NOT come off, do not try, instead the outer ring pops off and snaps back tightly. The flick on camera will sometimes take you right past the password, but only rarely. Cameras are fair and the dual mics are nice for a semblance of stereo, at least if you use headphones to listen. Still only 4x zoom, but for under $80... Get yourself a good case and you will not lose your investment on the first drop. I am using a Beyond Cell Trishield with added tempered glass screen cover, the last one protected my Moto-E1 from everything but a car accident. Should last a year or so before you'll want to upgrade if like previous model., , Always use the Motorola Charger, it takes a long time with anything less, I get about 4 hours of onscreen time until I reach 28-32%, I have had 30+ 'tabs' open, it got slow, locked and had to be restarted. I closed the ones I did not need and it was good all day. I am using a High end 128GB SD card, I really recommend a good file manager for this phone though you can view some files with built in software. The call sound quality is good on your end but depends upon the other person's mobile, direct calls from landlines sound better than voicemail from the same line. I use T-Mo PP and Wi-Fi so do not get all of the features but I am happy and bought another for GFs line. I have actually bought 3 of these now., , The Wi-Fi is about the same as the old Moto-E1(fair) and the usual apps are simply upgrades to the ones android users would already know, simpler cleaner for the most part. If this is your first Android read the paperwork and some online info but if not it will only take a few days to learn the slight differences from the older Android OSs and subsequent app updates., , *If you are a mobile gamer this is not for you, but if you want a good phone that can run a few smaller games and hold a reasonable set of apps for $40-80ish depending upn sales, this may be for you, especially if you are on a budget and using a PP line., , One further thing, the newer phones have yellow/green screen, the color are not as hot, the text not as crisp and easy to read. This is something that many phone handset Manufactureres are doing, it is horrible, but some are better than others. I have read that it is a software not hardware issue and may be fixed in the future if enough people complain, who knows. I bought two others before my current one and both of those were so yellow/green I could not read the text in the daylight so had to be returned, yet my GF loves her yellow/green screen.

Verified purchase: Yes